The celebrated bullfrog of Brevard County has won another accolade by being recognized at the state level by the American Advertising Federation – Fourth District ADDY® Awards Competition. The award winner was created by brandt ronat + company in the category of ELEMENTS OF ADVERTISING: Single Illustration for the Cocoa Beach Wine and Food Festival presented by Craig Technologies. AAF – Fourth District represents over 2,000 advertising professionals in Florida and the Caribbean participating via 25 local chapters.
The Cocoa Beach Wine and Food Festival was held on March 13, 2010, in Cocoa Beach and featured a concert by the rock group,Three Dog Night. The winning illustration pays homage to one of the band's greatest hits, "Joy to the World", by showcasing Jeremiah the bullfrog (who always had some mighty fine wine), the fishes in the deep blue sea, and a style that is reminiscent of album covers from a bygone age. Julian Bennett, a senior designer at br+c was the artist on the project, with creative strategies from Ryan Brandt, br+c vice president, and Jenise Osani, creative director for the project.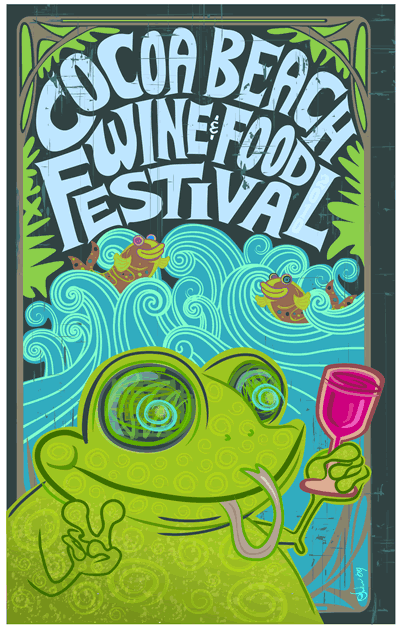 "Being quite young during the '60–'70s heydays," Bennett said, "I was infatuated by the whole cultural vibe and music and arts, especially the trippy rock posters where type and illustration became one. And then today, I got the chance of an ultra pleasant bonus to groove back, tune-in, and simply go play as a kid, mimic that scene with my own illustrative play on a welcomed nostalgia."
A big thank you also goes out to Tony Hernandez for his vision and to Craig Technologies for their commitment to the event. Without their fortitude, this would not have been possible.
The illustration earned the Best of Print Award at the Space Coast's American Advertising Federation Awards.
brandt ronat + company is a marketing solutions firm known for creating brand strategies and high-value message development, sustainable communications and advertising systems for clients in space and technology, health and wellness, the financial services industry, community infrastructure, real estate development and retail. Clients include Brevard Workforce, the Economic Development Commission of Florida's Space Coast, Community Credit Union of Florida, Growth Innovators, Space Coast Health Foundation, Federated Precision, Gatto's Tires & Auto Service, Florida Space Day Committee, Lawler Centre for Cosmetic Surgery, University of Central Florida, Brevard Schools Foundation, Essentials Spa, Space Coast Office of Tourism and Space Foundation (located in Colorado, Florida and Washington, D.C.).