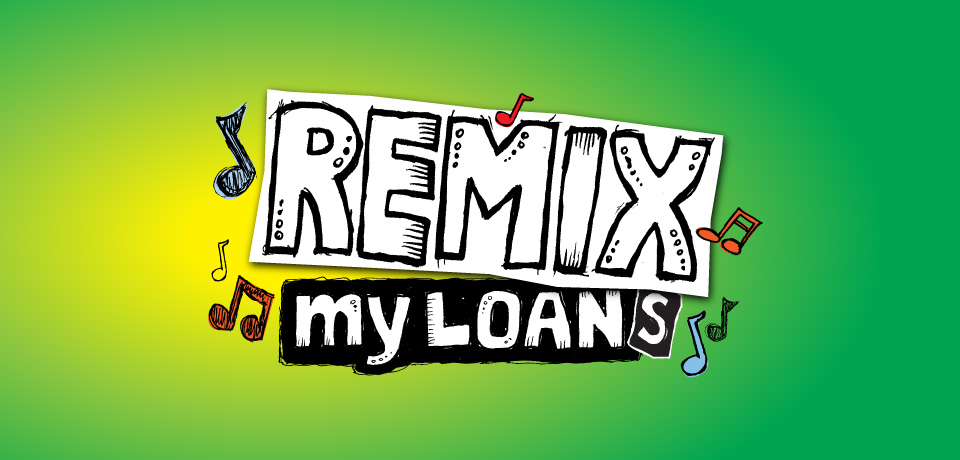 Think of your life as a piece of music–a song that's defined by everything you've ever done.
Remix My Loan Program Campaign Development for Community Credit Union Florida
The REMIX YOUR LOANS campaign is about cracking wide open a highly competitive category and delivering big results. It's a success story based on matching the concept and its execution to the target market (age group and credit needs).
The REMIX campaign for Community Credit Union of Florida has an "indie" vibe—a hands-on, hand-drawn, creatively delivered concept composed of musical allusions and bringing into focus the chance for rethinking, resetting, rewinding old loan decisions ("remixing") to refi, recharge and restart your loans…all messages built from a set of hand-cut paper illustrations tied to a specific high-identity url and brought to life in videos using good age-appropriate voice talent and great movement choreography.
REMIX exceeded monthly goals and outpaced the overall goal by over 100%.
This is a piece of the campaign, targeted to 21-35 year olds in the credit-driven segment of the market:
Are your finances out of tune?
Think of your life as a piece of music—a song that's defined by everything you've ever done. There are some pretty cool parts, like the violin solo that played during your first kiss or those victorious trumpets when you graduated.
But there are also a few weird things going on like that uneasy feeling that started when you took on that high mortgage payment… and what's with the out-of-tune tuba that's been playing ever since you got that high interest car loan?
Your life could use a remix.
If you need help rethinking past loan decisions, have more than one loan or credit card/loan combination to consider, and really need to rewind and reset before moving forward, go to CCU and see if there is a better way for you.
We have some pretty talented producers… um… loan professionals… who can turn your song into something worth downloading. We'll work to make your mortgage payment manageable, reduce your credit card payments, auto tune your car loan with a lower rate, and put more money in your pocket. With our help YOU CAN REWIND, REMIX, REFI AND RELAX. REALLY!
Remix your loans and Remix your life!
---
Brandt Ronat + Company
Marketing | Advertising Agency 'Communicate Better'
Serving the Space Coast, Melbourne, Merritt Island, Palm Bay, Viera, Brevard, Orlando, Tampa, Jacksonville, Boca Raton and Miami, FL in addition to Colorado, Washington DC, Georgia, Wyoming and surrounding areas.