Brandt Ronat + Company has made a leap forward in terms of video production for the web with the addition of a Sony PMW-EX1 high-definition camcorder.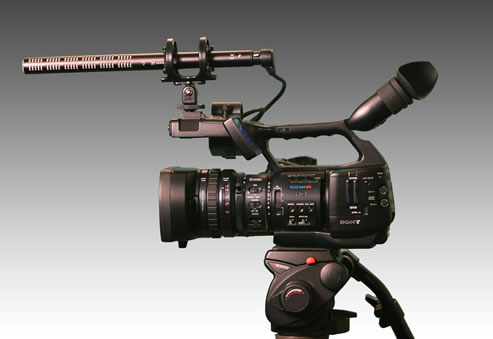 "This is an impressive video tool. If our clients need professional video for the web, then we have everything necessary to make an excellent product, right here," Bill Ronat of Brandt Ronat + Company said. Ronat spent ten years as a professional producer/director in the Midwest and Florida before starting BR+C with Linda Brandt. He was also a contributing editor for Videomaker Magazine, and several of his articles were featured in Videomaker Guide to Digital Video and DVD Production.
"The demand is clear," said Ronat, citing a March 2008 survey by the media network Universal McCann, which found that 82.9 percent of 17,000 Internet users in 29 countries watch video clips online.
In today's world consumers are hungry for information across multiple channels. Up-to-date content is a must for generating and maintaining web traffic. "The beauty of video is that in one sitting a clip can be repurposed into still images, an audio podcast, or a transcription for use in or other written marketing materials. It is a great way to leverage the time of company leaders. Brilliant moments can now be translated into limitless communication vehicles. People are looking for efficiency and for meaningful yet economical ways to reach their audience; with the addition of this service we can better meet the needs of our clients," said Ronat.
BR+C has devoted part of its studio space to a permanent set complete with a green screen background for interviews or for clients who want to directly address the camera.
Post production is also available at BR+C making this a turnkey product, with the ability to leverage already developed brand assets supported and created by the award-winning graphic artist staff and animation and editing also available in-house using the full suite of professional Adobe products (Premiere, After Effects, Flash, Photoshop, etc.)
"Posting to the web is now easier than it has ever been before, with cost-effective (and often free) publishing tools available which allow for collaboration, comments, and blogging—creating an interactive environment for customers or potential customers," said Ronat.
BR+C video production capabilities are well-suited for periodic or special messaging from leadership to internal or external audiences via webcasts, teaching and training or periodic updating of key customer or employee groups, messages to sales and marketing workforces or franchisee groups, interviews and profiles destined for the web, and especially welcome where a leaders valuable time needs to be leveraged and key messages repurposed for multiple audiences.
"Mostly, we will accomplish this type of work as part of our strategic package for existing clients," Ronat said. "We are not looking to compete with video professionals—that's not our goal. We simply want to offer value, ease and convenience to our clients who know that our staff is the best at what they do. Video is just another arrow in our quiver."
The quality of BR+C's end product far surpasses what can be generated from webcams or common home equipment. The camera is capable of capturing true 1080 x 1920 resolution on large ½ inch sensors and uses solid state recording with memory cards, basically recording directly to hard drives which are immediately available for editing (without the need to convert the footage from videotape).
The EX1 camcorder is a true professional system, with all the features and connectors found on high end equipment (three independent adjustment rings for focus, zoom and iris; xlr connectors to record uncompressed audio; slo-mo and time lapse settings).
The camcorder was chosen by Greenwich University to train television professionals in Great Britain. Greenwich University has a partnership agreement with BBC Training & Development as part of the Film and Television Production degree. The system is also the choice of Columbia University, where forty of the camcorders serve as the primary tool for graduate students studying cinematography.
"Because technology has improved so much," Ronat said, "The EX1 is actually capable of a much better video product than the professional gear I used when freelancing with NBC. It's better than the camera I took out on an aircraft carrier to capture F-18s being catapulted from the deck. Of course, there are cameras costing much more today that create an excellent picture, but for the money the EX1 is a great choice for interviews and support video. And since our plan is to use the video primarily on the web, using anything except the EX1 would be overkill."
Professional support gear at BR+C, such as Lowel lighting on the set and a tripod with a Bogen fluid head, and professional microphones (Sony lavaliers, Sennheiser shotgun mic) will ensure an excellent product, from gear that is available without extra logistical effort.