HERE'S AN ARTICLE IN THE NEW YORK TIMES about Toyota's effort to allow people to trick out their Scion's any way they like–including a kit for putting together a logo that reflects who they are.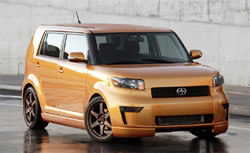 Scion
Along similar lines, Converse One has a website where customers can design their own sneakers. These options are great for folks who have a sense of personal style, but one wonders what the outcome may be for people who are "design challenged". Time will tell.
Converse Go to Converse Store, then Design Your Own.